Amy Stephen mentioned this quiz in her blog and I thought it would be a good one to post here, especially since the statistics at the end say "The average score for the gals is 38, while the guy average is 56." I think we lady-geeks need to get on the ball and raise our average. I did my part to bump up the score: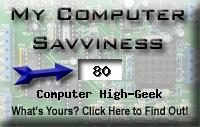 Had my parents not been too cheap to buy us an Atari, I think I could have had a much higher ranking.
Feel free to post your results here and let me know if the "average gal" score goes up.
So tell us – How Geeky Are You? :-B
Find out what they don't teach you in school with our free guide "How to set AMAZING GOALS and achieve them!"